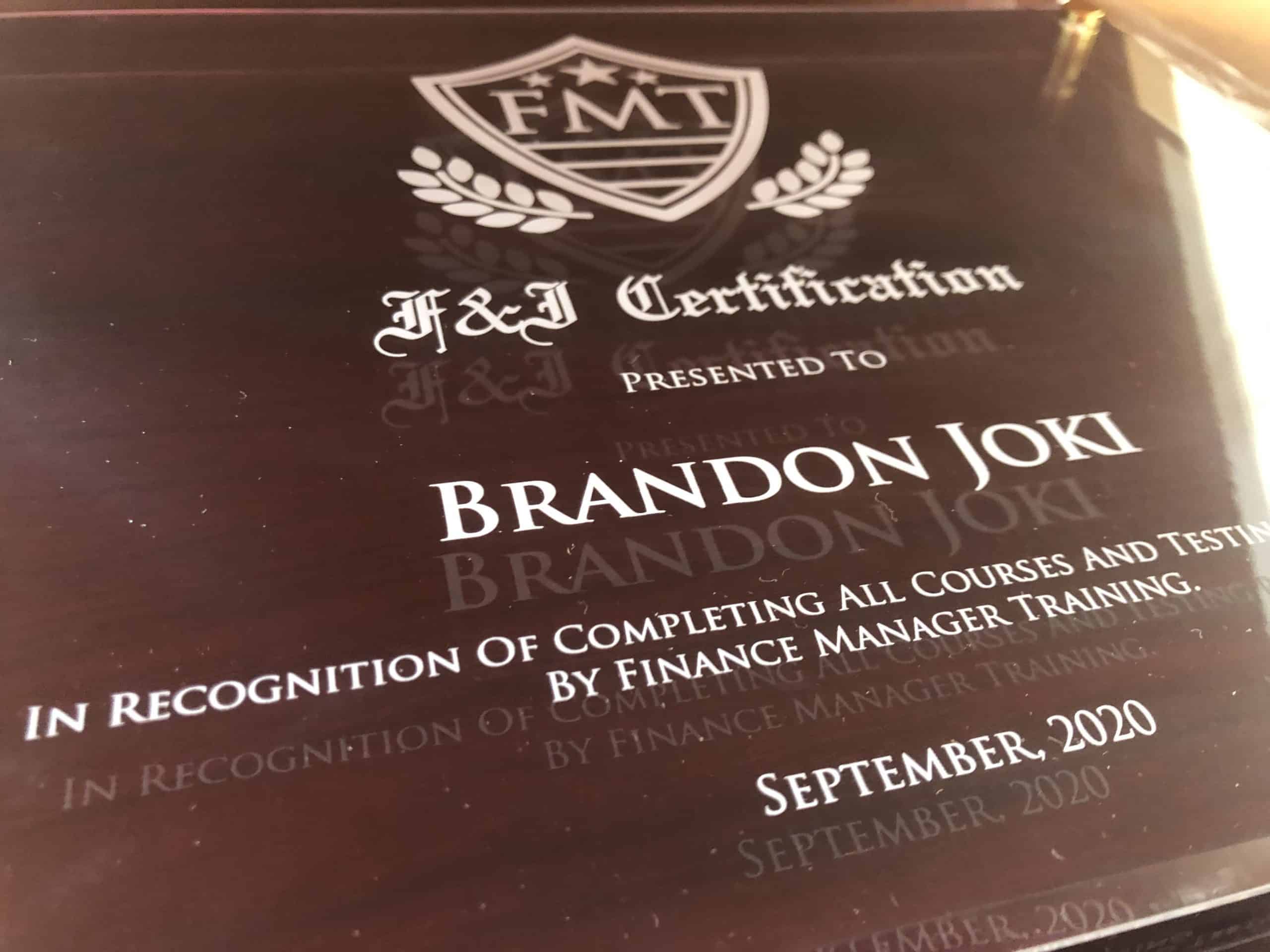 Why Finance Manager Training is the Best Dealer School for Automotive Dealerships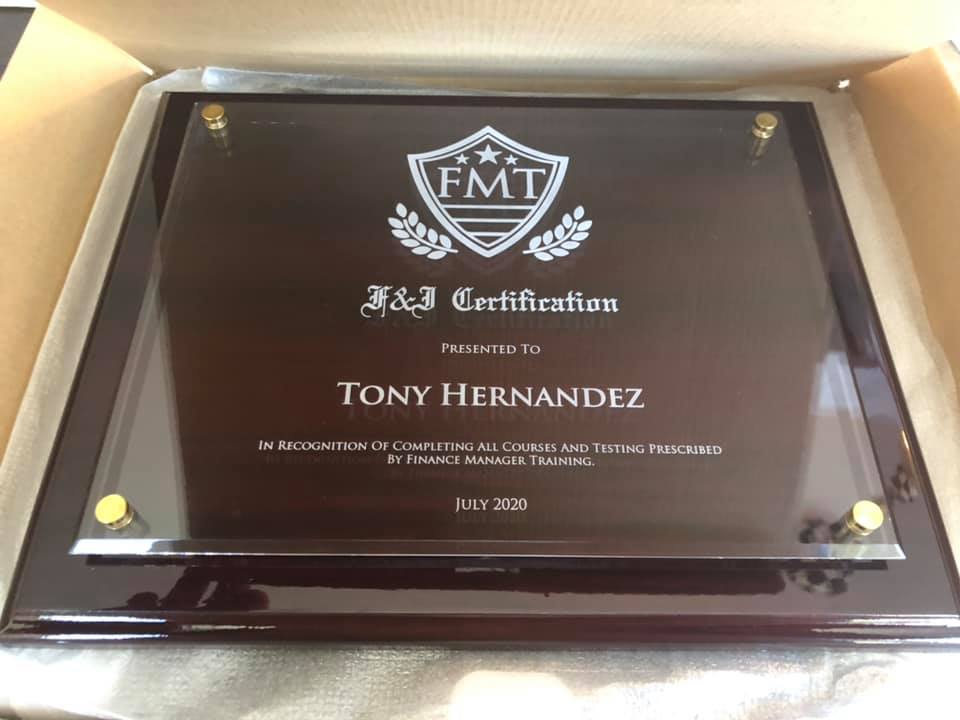 Are you hoping to get promoted to finance manager?
Or looking for a dealer school to train your salespeople in F&I?
If so, you've come to the right place!
A finance and insurance certification not only looks great on your resume and provides  instant credibility to your staff, but it also equips them with the knowledge needed to increase your F&I departments revenue. 
Enrolling in a college-level trade program like ours can give your staff the knowledge and confidence to enter the finance office and crush it from day one.
What is F&I Certification?
An F&I certification raises the standard of education and professionalism in the automotive dealership industry.
This document shows that F&I aspirants have the professional skills and knowledge to represent your dealership in a way that not only increases revenue, but also protects you from liability.
At Finance Manager Training, as well as in any other dealer school, we reward an individual with their F&I certification when they have completed their our complete suite of 12 modules, training lessons, quizzes and final exam.
Take note that every dealer school comes with their own requirements and standards. Here at Finance Manager Training, we require our students to accomplish all their courses and attain at least an 80% mark on all their quizzes and tests.
All students must complete these requirements to receive an F&I certification.
Most dealerships today don't require an F&I certification. It also isn't a government-recognized status.
Nevertheless, that piece of paper shows employers, customers and colleagues that you took the time to train and equip yourself with the latest, greatest and most cutting edge F&I training available.
It shows that you are serious about your career and you've gone the extra mile to train and become an excellent finance manager.
Why is Finance Manager Training the Best Dealer School?
Finance Manager Training is a trade school helping aspiring and current F&I managers gain the skills they need to become better at their job.
Here are a few reasons why our dealer school is one of the best today:
Many sales professionals hesitate to take the next step in their career in auto sales and enroll in an automotive dealer school because of financial constraints. Fortunately, there are all sorts of training providers these days that cater to different price ranges. A few schools like Finance Manager Training come with a pretty reasonable price.
For only $197 per month, you can train with us and become the best F&I manager your dealership has ever known.  You may also pay a one-time fee of $997 to gain access to all our training resources.
All of our classes are conducted online. Instead of flying to a different state or sitting in a dreary classroom in your automotive dealer school, you can learn at your own pace from the comfort of your own home during your free time. It will save you a whole lot of money and energy. Plus, you won't have to spend time away from your family.
Diverse training programs
We have plenty to offer aspiring finance managers. We cover a wide range of lessons, from relationship building and handling objections to selling F&I products. For those who have little experience in car dealerships, we have a beginner's course to help you navigate your way around the business.
Paying our one-time fee of $997 will grant you lifetime access to our lessons and resources. Every time we update our programs, you will receive the upgraded course materials. That means you can continue to hone your skills as a finance manager with our help, long after you've completed your training program and received your certification.
Here at Finance Manager Training, we add new lessons to our training programs each month. If you pay the $997 package, you'll be able to check out these monthly updates. This way, you can keep up with the latest trends in the industry and continue to impress the higher-ups in your car dealership.
Sometimes, training providers only offer digital certifications to their trainees after they've completed their course. This is unfortunate because students work so hard to complete their program and should have a prize worthy of their efforts.
We know that taking this next step in your career isn't easy. We understand how hard our students work on their lessons, so we always make sure that they feel like they've truly accomplished something great. For completing our Finance Manager Training, you will receive an engraved certification in the mail, which you can display in your office.
How Long Does it Take to be Certified?
This depends entirely on you. If you enroll in our $197 per month training program, you will go through a minimum six-month course. That means you can potentially receive your F&I certification in six months if you attend your online lessons and pass your tests.
Let's say you're in a rush and want to get certified a bit sooner. You can enroll in our 30-day F&I certification course, which has a one-time fee of $997. You will be given lifetime access to our Training Center. As a trainee, you will have to complete all 12 modules, pass a series of quizzes, and watch our training videos. Like the rest of our programs, you can hit pause and play whenever you want to.
Once you sign up to our program, you can immediately access our online training courses. We will be with you every step of the way. If you have questions, you can turn to our private training group on Facebook. There, our F&I managers can answer your questions. Your certification plaque will be mailed directly to you after you've met the necessary requirements.
Why Finance Manager Training is the Best Dealer School for Automotive Dealerships