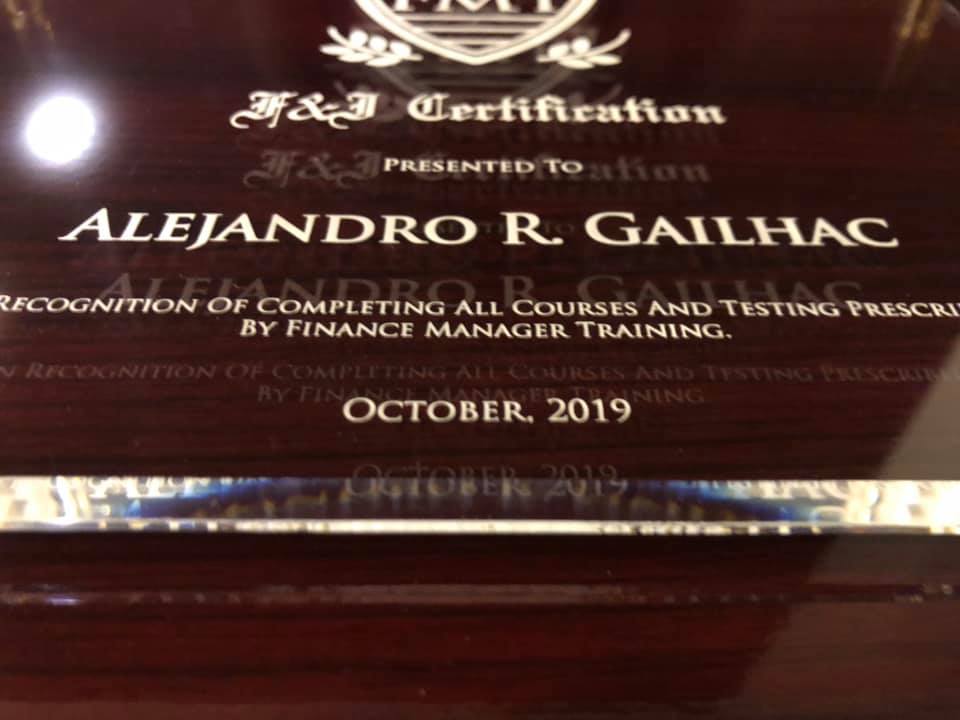 Automotive Dealership Institutes vs F&I Training Schools
Last Updated: May 30, 2023
Starting a new career as an F&I Manager? Training with a dealership institute (or an F&I school) is one of the best ways to begin a new career as an F&I Manager.
In fact, that's our specialty! Here at Finance Manager Training, we train and help people become F&I Managers every day. We also help current F&I Managers boost their PVR and transform into well-paid and highly-desired dealership employees.
As one of the top dealership training companies in the world, people often ask us about Dealership Institutes and how they compare to the F&I Certification provided by Finance Manager Training. We get it – choosing the right F&I training provider can be a bit overwhelming.
But don't worry! We've got you covered. In this article, we will break down the differences between F&I Institutes and Schools, and discuss key factors such as pricing, features, and even what's included in various programs.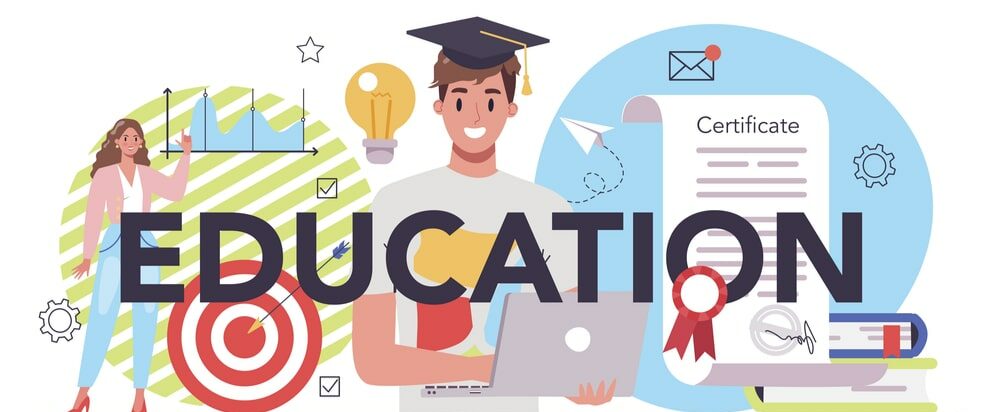 Auto Dealership Institute's vs F&I Training Schools
Both F&I Schools and Dealership Institutes are highly regarded options for dealerships and F&I students. Many dealerships rely on these programs to train their new & upcoming F&I Managers, and even help their current F&I Managers enhance their skills.
What exactly is the difference between an automotive dealership institute and an automotive F&I School? Most of the time, it's just a matter of semantics.
The Merriam-Webster dictionary defines an "institute" as: "Something that is instituted: such as an educational institution and especially one devoted to technical fields."
Simply put, they're both trade schools. An F&I School and a Dealership Institute are two ways of referring to the same thing! They're both F&I Training providers.
QUICK TIP: Check The Fine Print!

When comparing F&I Training providers, make sure that both programs offer the same 'perks'.

For example, some companies do NOT include Job Placement Assistance when you choose their online or virtual training. They want you to pick their expensive, in-person course. And some Institutes will restrict your access after a certain amount of time - usually 60 to 90 days.

Finance Manager Training on the other hand includes Job Placement Assistance in every program, and access to the course and software never expires.
Finance and Insurance Training (F&I) Schools offer a similar curriculum and post-graduation services (like job placement assistance) as an automotive F&I institute. And oftentimes for less money.
In fact, popular F&I Training schools – such as Finance Manager Training™ – offer the best cost to benefit ratio for new and veteran F&I Managers.
By combining the cost savings of online education, with the power and potential of an F&I Manager career, an F&I School puts F&I education into the hands of people who may otherwise not be able to afford the cost of an expensive institute.
Did You Know?

Finance Manager Training is one of the only licensed F&I Schools in the entire world! FMT is licensed by the NYS Education Department (BPSS). When choosing an F&I program, check to make sure they are licensed before signing up!
How much does an Auto Dealership Institute cost VS an F&I Training School?
According to our research, Dealership Institutes and other F&I training providers tend to cost more money than Finance Manager Training's online F&I school.
Let me share a personal story with you! 
Back when I was a full-time F&I Manager, my dealership sent me to a 3-day training course with an F&I product provider. The training alone set the dealership back around $5,000 – and that didn't even include the airfare for flying me out there. 
Fast forward to today, and a dealership could enroll their entire F&I department in Finance Manager Training's F&I School – with lifetime access, no less – for the same cost that my dealership spent on sending just me to a program that wrapped up in three days. 
Amazing, right?
How other Institutes & Schools compare:
Let's take a look at some examples we found by searching on Google:
– Automotive Dealership Institute in Arizona advertises $15,000 for their in-person F&I classroom, according to their website. They also offer a hybrid virtual option for $6,000 but that does not include job placement assistance – only resume and interview preparation.
– AMA offers a 3-day training course for only $2,440. But that, according to their website, "Does NOT include lunch, dinner, hotel accommodations, or daily transportation to/from hotels other than designated hotels." Or airfare, presumably. These additions likely add at-least another $1,000 to the bill, bringing the actual cost to more than $3,500.
Extra costs can add up quickly, so be sure to ask what is not included when deciding on an F&I program.
The affordability of F&I School

Finance Manager Training offers a fully comprehensive online F&I School for only $1,597. Total. No extra fees, fine print, or extra costs. The program includes Job Placement Assistance, which includes setting up interviews for our students, as well as resume and interview preparation. There are no airplane tickets, hotel stays or meals required. Your F&I Training is done on your time, and at your pace, and wherever you feel comfortable.
Well known Institute's for Automotive Dealerships
One example of an F&I Training Institute is Assurant®, with their Assurant Performance Institute that is part of the dealership F&I services that they offer.
Assurant is one of the most well known F&I product providers. Many product providers offer training so that F&I Managers can sell more of their product. However, most product providers are not licensed as a school and are therefore unable to provide students with a government recognized diploma.
Another well known institute for automotive dealerships and F&I Training is the Automotive Dealership Institute in Arizona. The Automotive Dealership Institute features a well reviewed in-person training curriculum, as well as virtual options.
There is also the Protective Asset Protection® Training Institute, which is another good option for dealerships and their F&I departments.
While not an exclusive list of automotive dealership institutes, these organizations are among the most popular and well known.
Disclaimer: We are in NO way affiliated with Assurant®, Automotive Dealership Institute in Arizona, or Protective Asset Protection®. This comparison article was made per 16 C.F.R. § 14.15(b)-(c), which allows comparisons of products and services. Companies found to have a registered trademark with USPTO have the ® symbol. All information correct as of April 30th, 2023.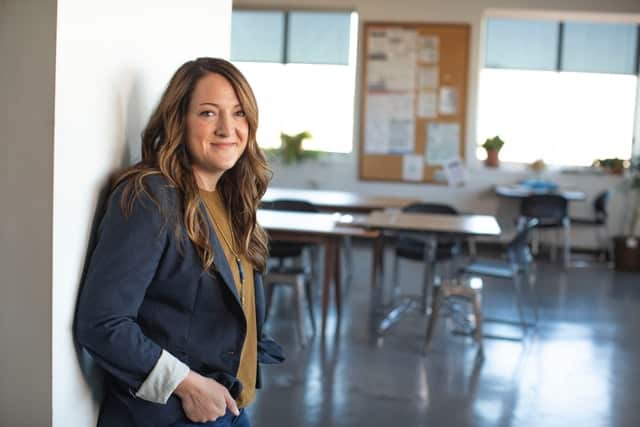 Job Placement Assistance with Dealership Institutes and F&I Schools
Students of F&I Schools and dealership institutes are often hired as F&I managers in dealerships across the United States and Canada.
This is a credit to the excellent job placement assistance that is included with the tuition of some schools and institutes.
The process typically consists of a Job Director or Career Development Department using their research and networking skills to connect with Dealerships in the students area.
Once the connection is made, the F&I job placement assistance director will negotiate an interview on behalf of the student.
If all goes well, their first F&I job is potentially around the corner.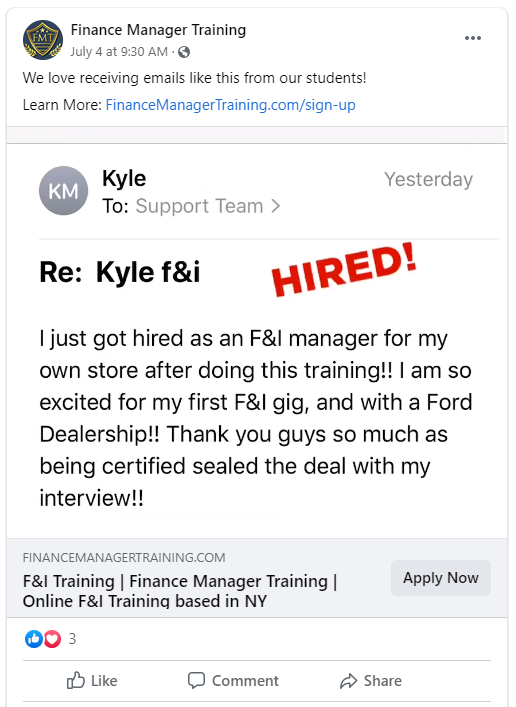 Which school should I choose?
That's a great question.
The F&I training company you should choose comes down to a few different factors. We suggest that you create a pro's and con's list, because the decision is often a personal one and depends on how you learn best.
Some questions that you could ask yourself include:
Would you prefer to learn from the comfort of your home, with an F&I School like Finance Manager Training? Or would you rather travel to an in-person institute?
Are you comfortable paying the typically high costs of an institution, when there are other more affordable options available?
Have you ever turned to YouTube to learn how to make a small repair in your home or on your car? That's similar to online F&I Training. You watch the video, absorb the information, and then know a new skill!
Whichever choice you make, know that you're in good hands. Automotive dealership institutes, F&I institutes, and F&I Training schools all offer world-class programs that can help you become a better F&I Manager.
PS, here is a free F&I training lesson for you to enjoy!
Disclaimer: We are in NO way affiliated with Assurant®, Automotive Dealership Institute in Arizona, or Protective Asset Protection®. This article is simply showing a few of the different options that students have.  Companies found to have a registered trademark with USPTO have the ® symbol. All information correct as of October 2020.