How much do F&I Managers make in Car Dealerships in 2023?
Updated: October 04, 2023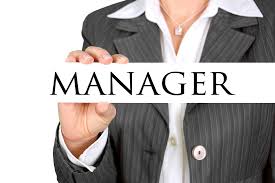 F&I Managers are among the highest-paid employees in the automotive industry, and a recent survey shows that F&I income continues to rise. In fact, it is not uncommon for an elite F&I Manager to earn up to $250,000 per year.
This means that F&I Managers have the potential to earn more than four times the average salary of workers in the United States. The high earning potential puts F&I Manager among the top earners in the country. In this article we will take an in-depth look into how much F&I Managers make and what you can do start your career in F&I as well.
First, let's take a look at dealership pay-plans, which dictates how F&I Managers get paid.
F&I Manager Pay plans and Commission​
The majority of dealerships pay their employees via a pay-plan. A pay-plan is a formal description of what goals an employee has to meet or exceed in order to reach various levels of commission.
For example, if an F&I Manager's pay-plan dictates a 12% commission at 50% product penetration, the F&I Manager will earn 12% of the revenue he generates for the dealership if he sells at least 50% of the products he presents to customers.
However, the first step is to get hired. When a car dealership is reviewing an F&I applicants resume, they will be looking for several things:
Their personal history of success in the industry (how well they have done at other F&I jobs?)
The F&I training they have received (are they F&I Certified?)
Their applicants job stability (are they leaving jobs every 6 months looking for greener pastures, or do they stick around?)
Now let's take a look at how much you can expect to earn (on average) as an F&I Manager at a car dealership.
How much do F&I Managers make in 2023?
A comprehensive study of F&I Managers, conducted by Finance Manager Training in 2023, revealed that F&I Managers have a high salary and have experienced a drastic increase in income over the past several years.
The average salary of a dealership F&I Manager in 2023 is more than $150,000 per year. 63% of F&I Managers earn at least $150,000 and over 30% of F&I Managers earn at least $200,000 per year.
Automotive finance managers are highly paid because of the rare skill-set that one must possess to become an F&I Manager. One way to start that process of becoming an F&I Manager is to sign up for F&I Training
The significant earning potential, coupled with the fact that F&I management often requires no college degree, and offers the comfort of desk-based work, makes the F&I sector an increasingly attractive career path.
F&I stands as one of the rare domains where individuals can achieve six-figure incomes without the barriers often associated with such high-paying roles.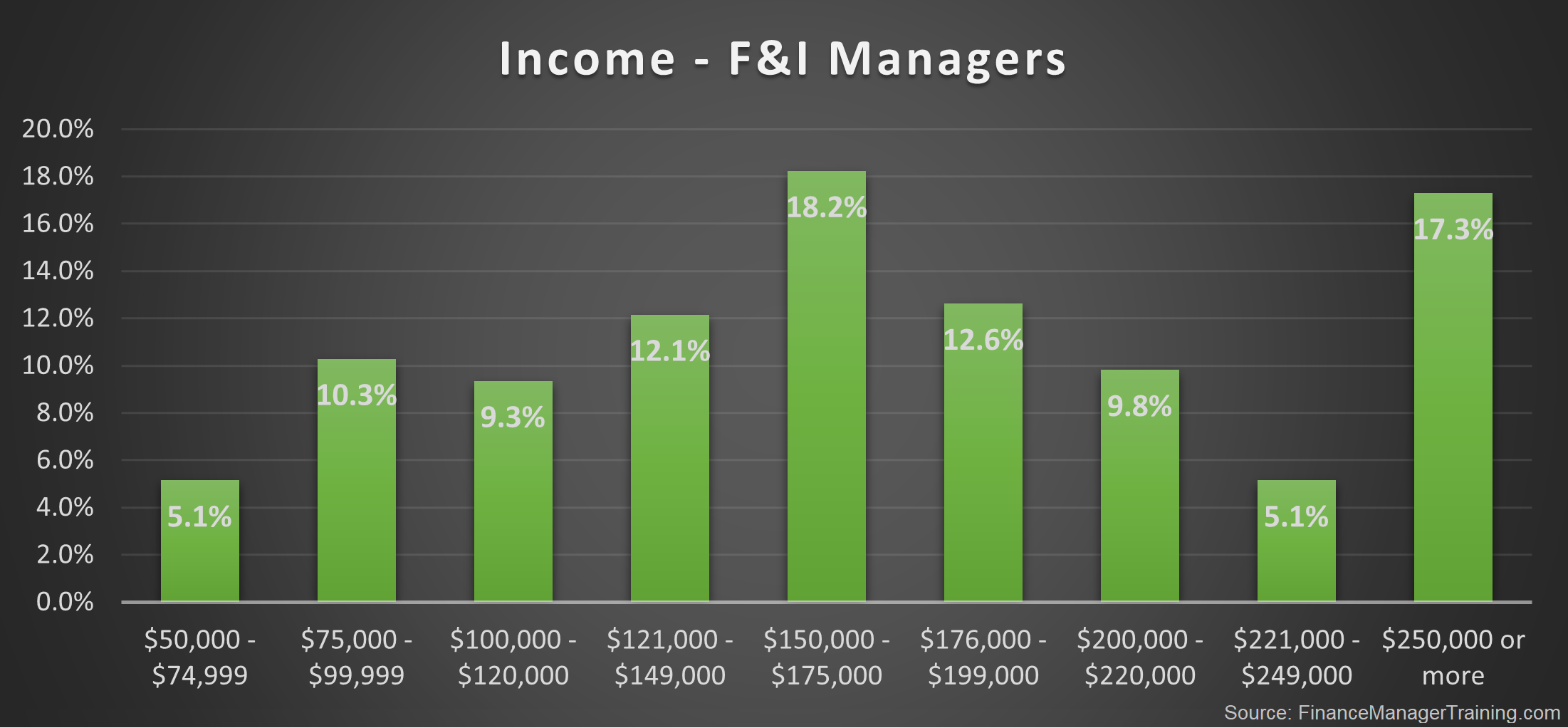 The #1 F&I School
Earn Your F&I Certification
Join Today. Start Today. Graduate in under 30 Days!
F&I Manager Salary Is On The Rise
F&I Manager income has risen dramatically from 2016 to 2023. In 2016, research conducted by the National Automobile Dealers Association (NADA) showed that an F&I Managers salary was $132,786. Data from this study is shown in the image below.
According to polls and surveys reviewed and conducted by Finance Manager Training, the average estimated salary of an F&I manager in the United States has increased from $61,000 in the mid 2000's to over $150,000 in 2023.

Over the previous five years, the Finance and Insurance (F&I) field has witnessed a substantial rise in earnings. A survey conducted in 2017 revealed that a mere 19% of F&I Managers were making more than $151,000 at that time. Fast forward to now, and 63% of these managers are earning at or above the $151,000 threshold, marking a 44% jump. Of this group, more than a quarter are bringing in a yearly income of $250,000 or higher.
Looking at the lower end of the income spectrum in F&I, the numbers show that only 15% of managers earn below $100,000. Summing it up, the F&I profession continues to be financially rewarding, with a significant 84.9% of managers in the field reporting an annual income that exceeds $100,000.
The daily responsibilities of an F&I Manager include protecting the dealership from litigation, structuring loans, the ability to work long hours, and the skill to negotiate with lenders and customers.
How Much Do F&I Managers Make In Comparison To Other Dealership Managers?
The annual compensation for dealership managers has been increasing at the rate of one percent per annum across the industry.
However, the average compensation of an F&I manager is nearly 4% higher than that of an ordinary manager in any department in the dealership.
This estimation makes the position of the F&I manager one of the most lucrative positions in the industry.
As mentioned previously in this article, Finance Manager Training conducted a poll of F&I Managers to ask about their income, job satisfaction and more.
This poll revealed similar results:
54% of F&I Managers surveyed earned more than $100,000 per year, and nearly 20% earned more than $151,000 annually.
F&I Directors, which is the next step up from F&I Manager, had over 58% of respondents indicate that their average income was over $151,000 per year.
How much do AutoNation F&I Managers Make?
We are often asked of the average salary for AutoNation F&I Managers. This is likely due to the fact that AutoNation is one of the largest car dealer groups in the nation.
An F&I manager at AutoNation averages $113,427 per year, according to PayScale.
Keep in mind that salary estimates at AutoNation are calculated without considering extra bonuses such as company car, 401k matching and other perks that some dealerships may allow.
Employee turnover has increased considerably in the industry. Some dealerships report F&I turnover as high as 32%. This benefits the F&I manager, as the demand for quality F&I managers increases, so does the salary.
Nearly all car dealership are open for business during the weekends, and on average 10 hours per day.
While some states mandate that dealerships close on Sunday's, many others are open 7 days per week.
A new F&I Manager can expect to work at least 50 hours per week.
What is an example of an F&I Manager schedule?
Schedules change from dealership to dealership, however here is an example of a common schedule.
Sunday: Off
Monday: 9am to 8pm
Tuesday: 9am to 8pm
Wednesday: 9am to 6pm
Thursday: Off
Friday: 9am to 6pm
Saturday: 9am to 6pm
Summary of 2023 F&I Salaries
A 2023 survey revealed that the majority of F&I Managers are experiencing a steady increase in income. In 2022, 63% of F&I Managers earned over $150,000, a 7% increase from the previous year. The industry has seen a 44% increase in those earning at least $151,000 over the past five years.

F&I Directors have also seen substantial growth, with 83% reporting earnings of more than $150,000 in 2022, a 13% increase from 2021. However, there was a 9% decrease in those earning over $200,000.
F&I Manager PVR (Per Vehicle Retailed) has increased dramatically, with 74.3% reporting a PVR greater than $1501 in 2022. The industry has also seen growth in the number of finance managers reporting higher PVRs over the years.