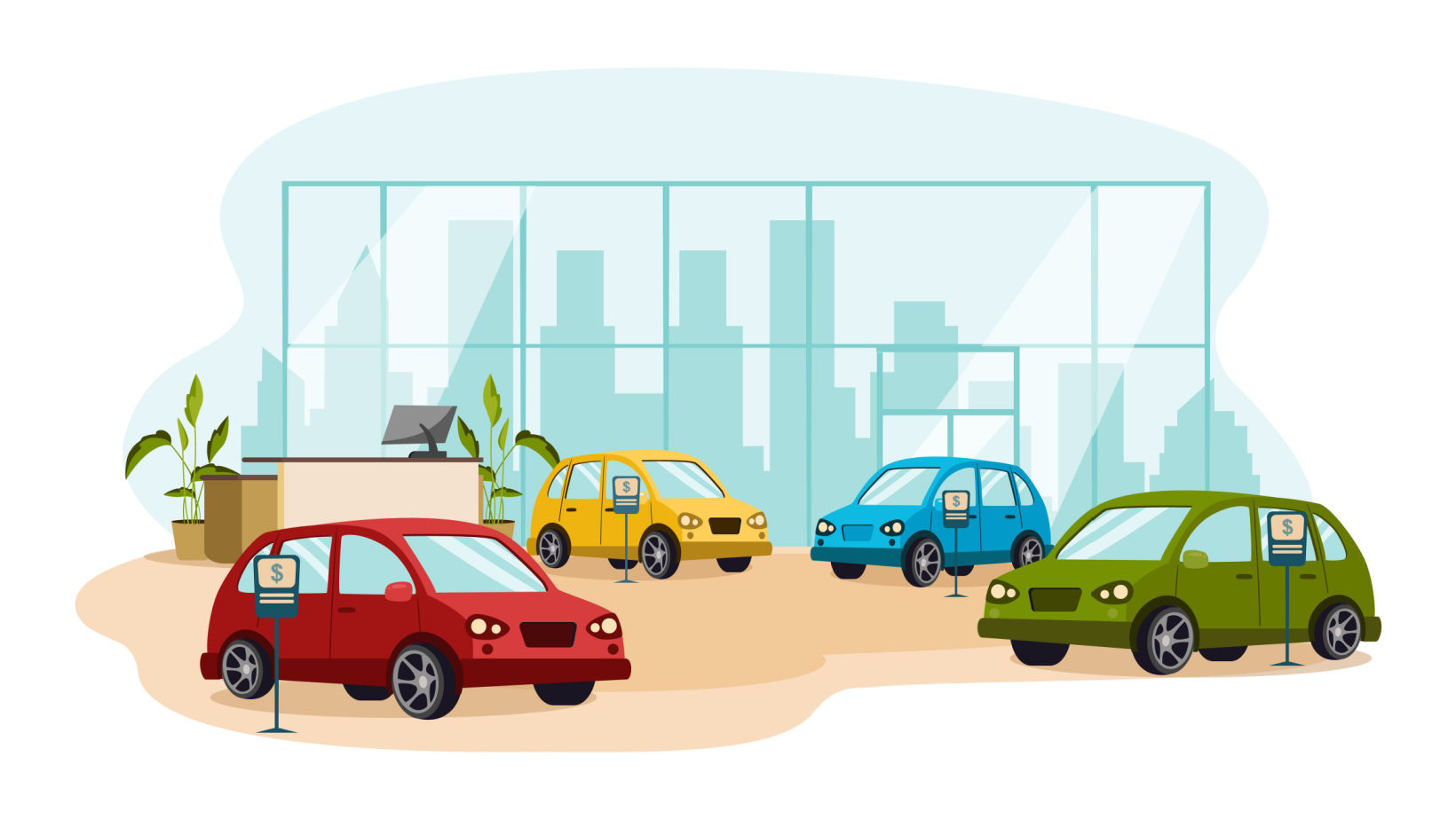 Published: March 31, 2023
Survey conducted by: Finance Manager Training
Data Analytics: Munendra Parmar
Last Updated: March 31, 2023
Amidst numerous challenges, from rising inflation and climbing interest rates, to parts shortages and manufacturing delays, F&I Managers and F&I Directors have continued their excellent support of dealership sales nationwide. That support and the rewards that go with it are shown clearly in our latest survey.
Our 2023 survey examines national and regional income levels, finance and insurance PVR, the outlook and concerns for the future, and the overall perceived appreciation levels from dealership management. We also compare the results against our 2022 survey. 
288 F&I Managers and F&I Directors were surveyed. 19 Hybrid F&I/Sales People were also polled. The results are discussed in this article.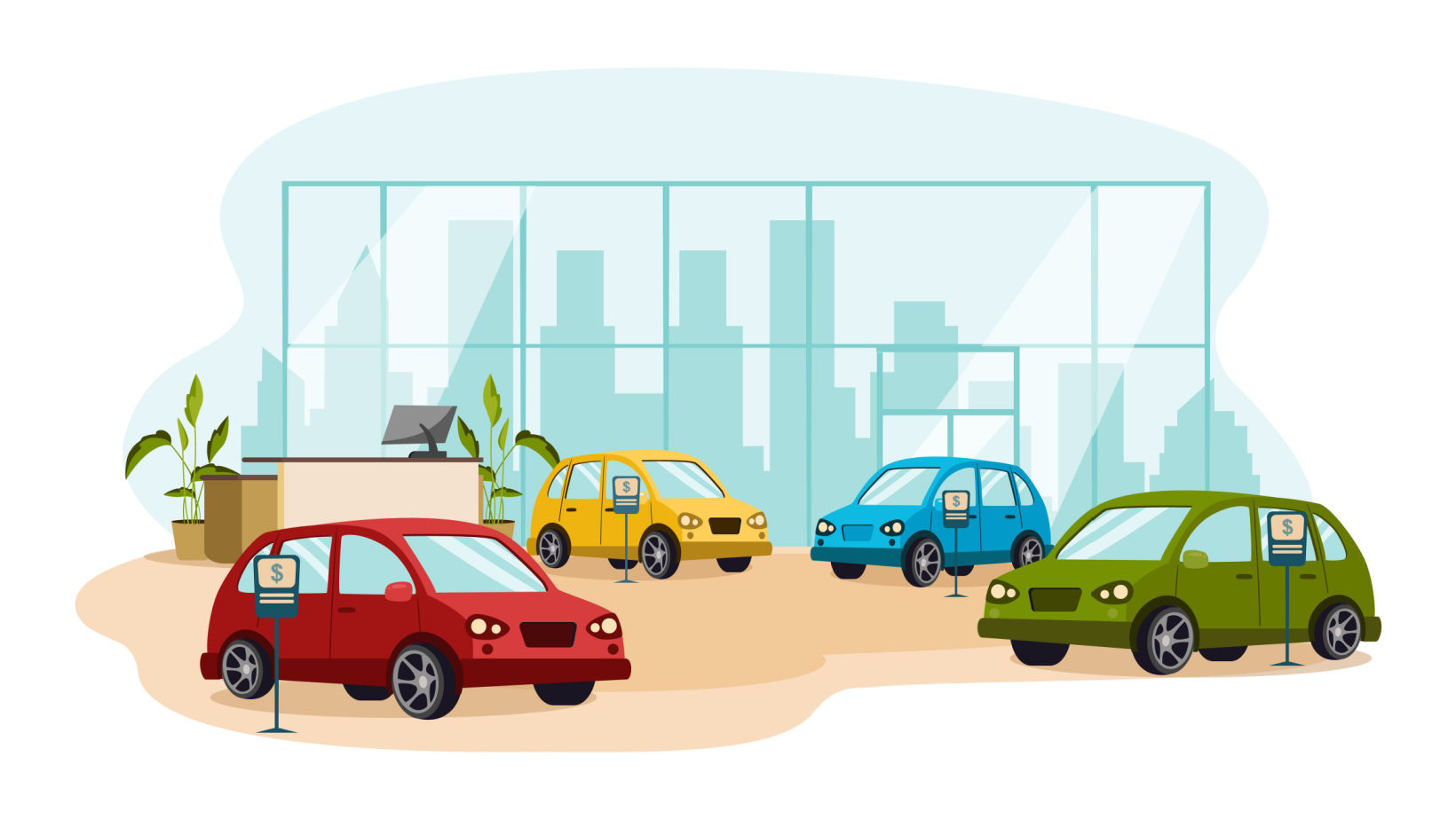 F&I Manager Income Rises Again
Our 2023 survey saw another year of increasing F&I income with 63% of F&I Managers earning over $150,000 in 2022, versus 56% who met that income threshold in 2021. That's a substantial increase of seven percentage-points and puts the majority of F&I Managers into the top 10% of earners in the United States.
If we move the comparison window to those reporting over $100,000 of annual income, the survey finds 84% of respondents earn a six figure salary, versus last years results of 81%.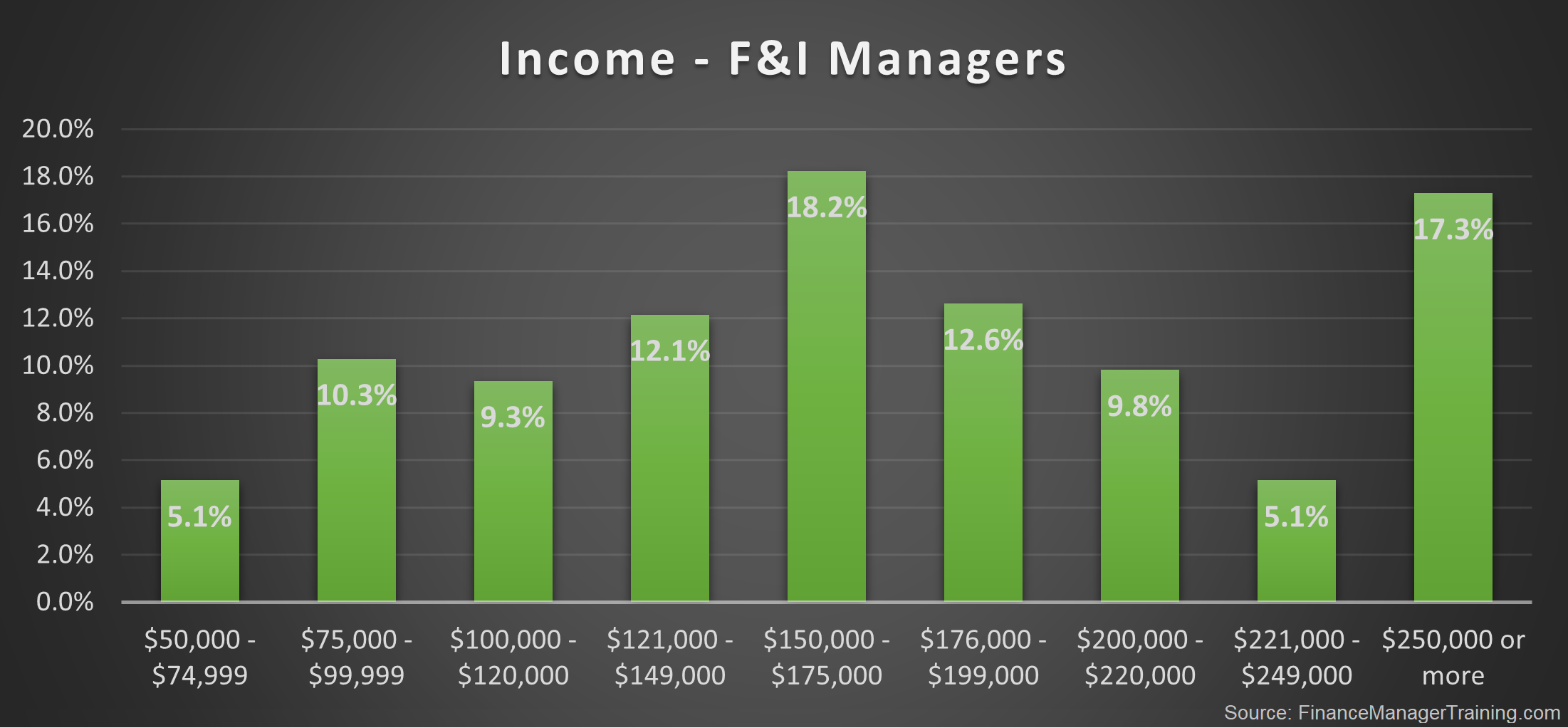 F&I Growth Over Five Years
The F&I industry has seen incredible income growth over the past five years. For example, in our 2017 survey only 19% of F&I Managers reported an income surpassing the $151,000 mark.
Now, 63% of F&I Managers earn at least $151,000  – a 44% increase – with over 27% of those upper income respondents earning a quarter of a million dollars per year or more.
What is the "floor" for F&I? Well, the data reveals that only 15% of F&I Managers earn less than $100,000. 
As a whole, F&I continues to be a lucrative field, with 84.9% of F&I Managers reporting an income of $100,000 or greater.
Please note:
The dates can be confusing as the survey year differs from the year of the data. The 2023 survey looks at data from 2022. The 2022 survey looked at data from 2021.
What did F&I Directors earn in 2022?
The results for F&I Directors reveal substantial differences from last year. 83% of F&I Directors reported earning more than $150,000 annually in 2022 versus the 70% who reported this income in 2021. That's an astounding 13% difference in only one year.
To provide historical context, our 2017 survey indicated that 58% of F&I Directors reported annual earnings above $151,000. In the subsequent 2021 survey, this figure rose, with 56% of F&I Directors earning more than $200,000 per annum. Now, the vast majority of F&I Directors are north of $150k.
We did see one decrease in the higher end of the bracket. Only 47% of F&I Directors reported an annual income surpassing $200,000, representing a 9% decrease year over year.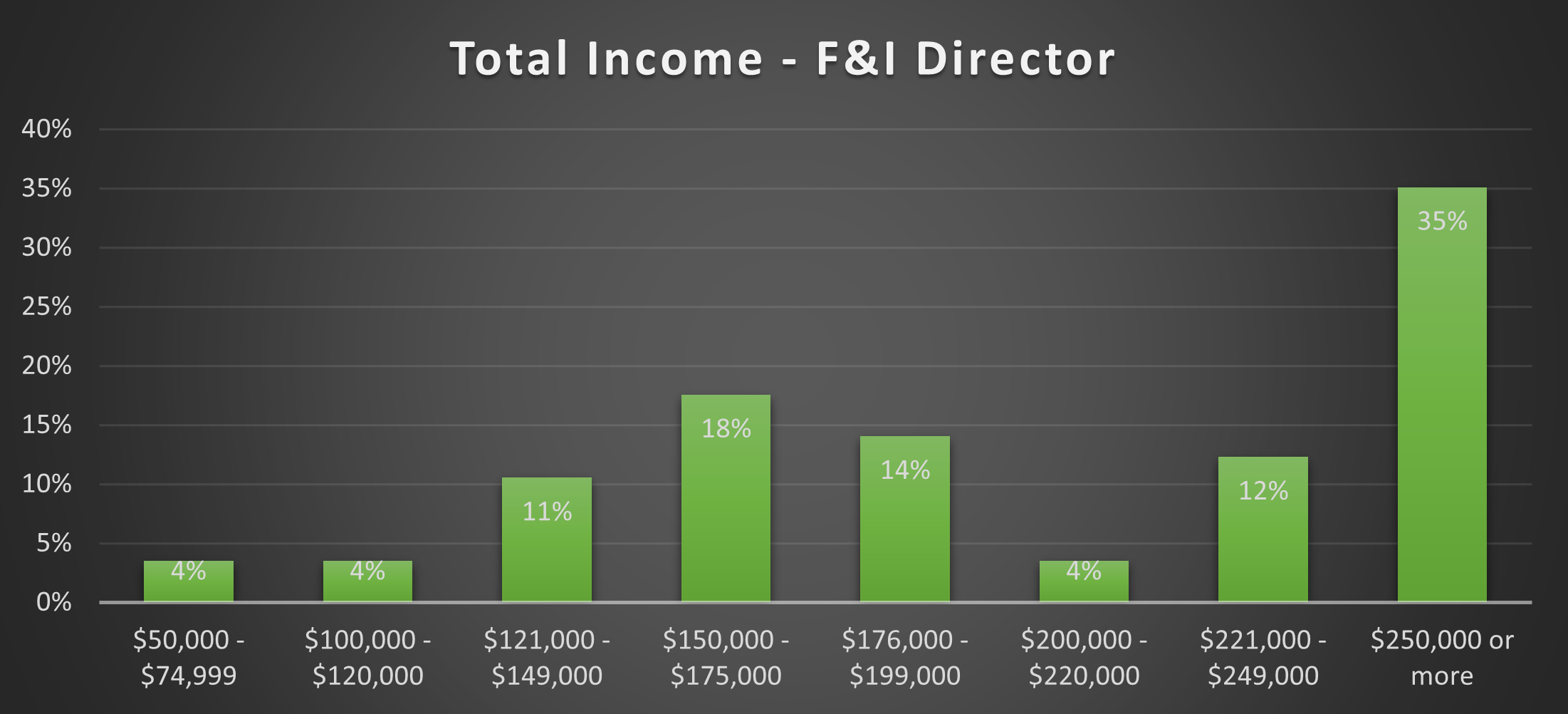 What region pays F&I Managers the most?
We also asked respondents to indicate what region of the country they currently work.
The results demonstrate that a high proportion of respondents were in the South carrying 35% of the total, with the remaining 23% in the Midwest, 22% in the North, and 20% in the West. 
Like previous surveys, the results show that when these regional population differences are accounted for, the income levels remain relatively consistent from one region to another.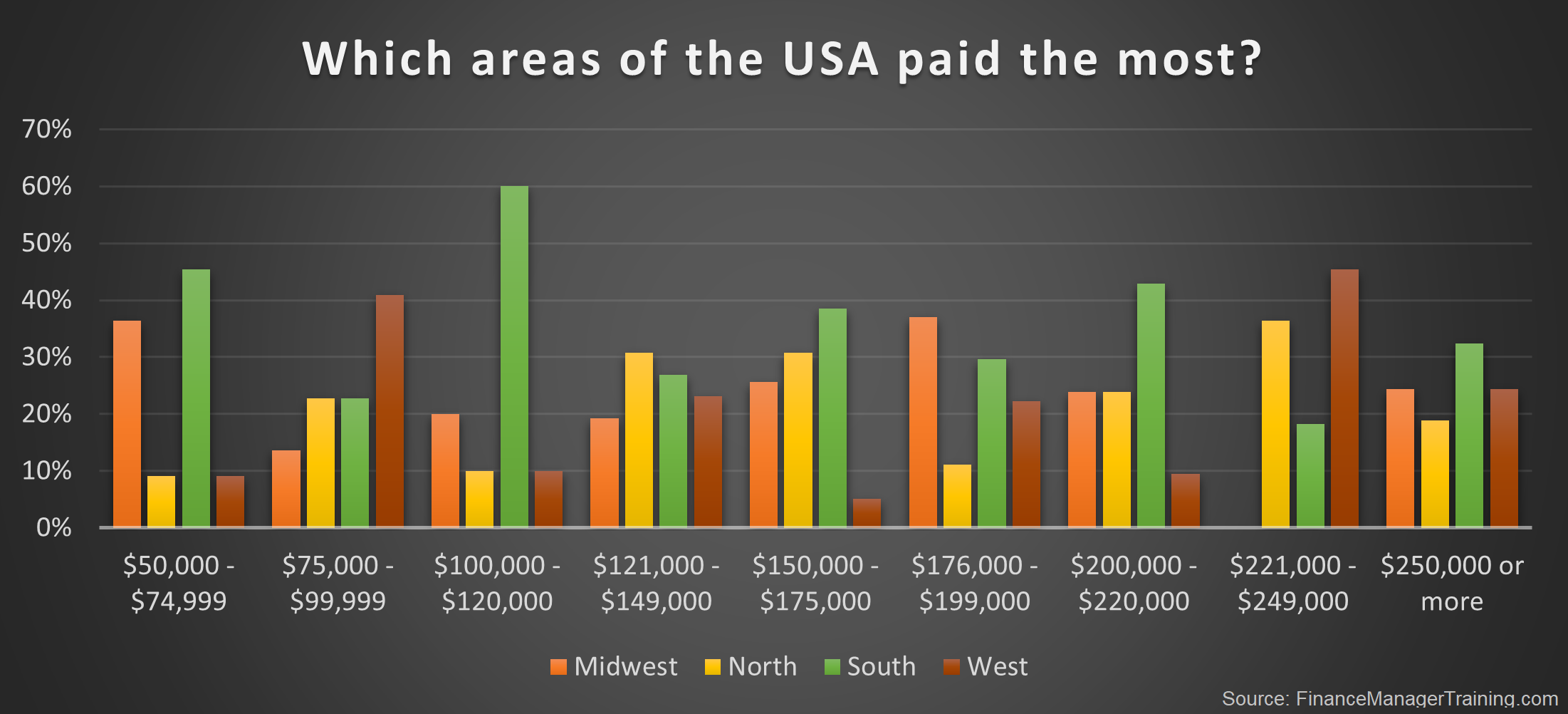 What is the average F&I PVR in 2022?
F&I Manager PVR has also increased dramatically since our last survey.
In 2017, only 20% of finance managers reported a PVR of more than $1,400, and 57% of those surveyed reported a PVR in the range of $950 and $1,400 per deal.
In 2021, we saw a substantial increase in both categories, with 62% of finance managers reporting a PVR of more than $1,500, and 91% reporting a PVR of at least $1,100 per deal.
In 2022, these numbers skyrocketed, with 74.3% of F&I Managers reporting a PVR greater than $1501 and 65.9% reporting a PVR greater than $1,701.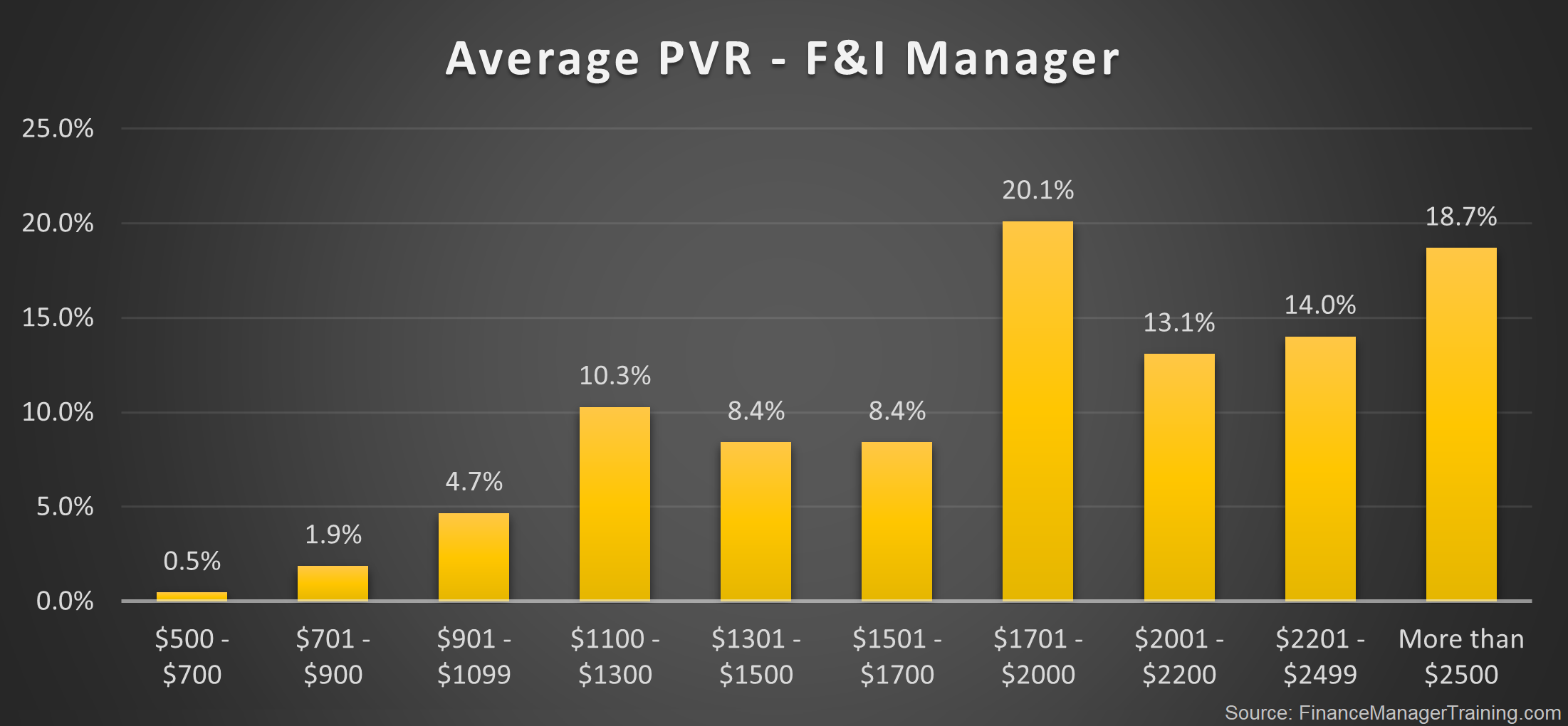 Do F&I Managers and F&I Directors need a college degree?
We challenged the common belief that automotive jobs have a low barrier to entry by asking our respondents about their highest level of education.
The vast majority of F&I professionals surveyed have a high school diploma or no diploma at all. Only 29% have a bachelor's degree or higher, making the F&I position one of the few remaining fields with high earning potential and no degree required.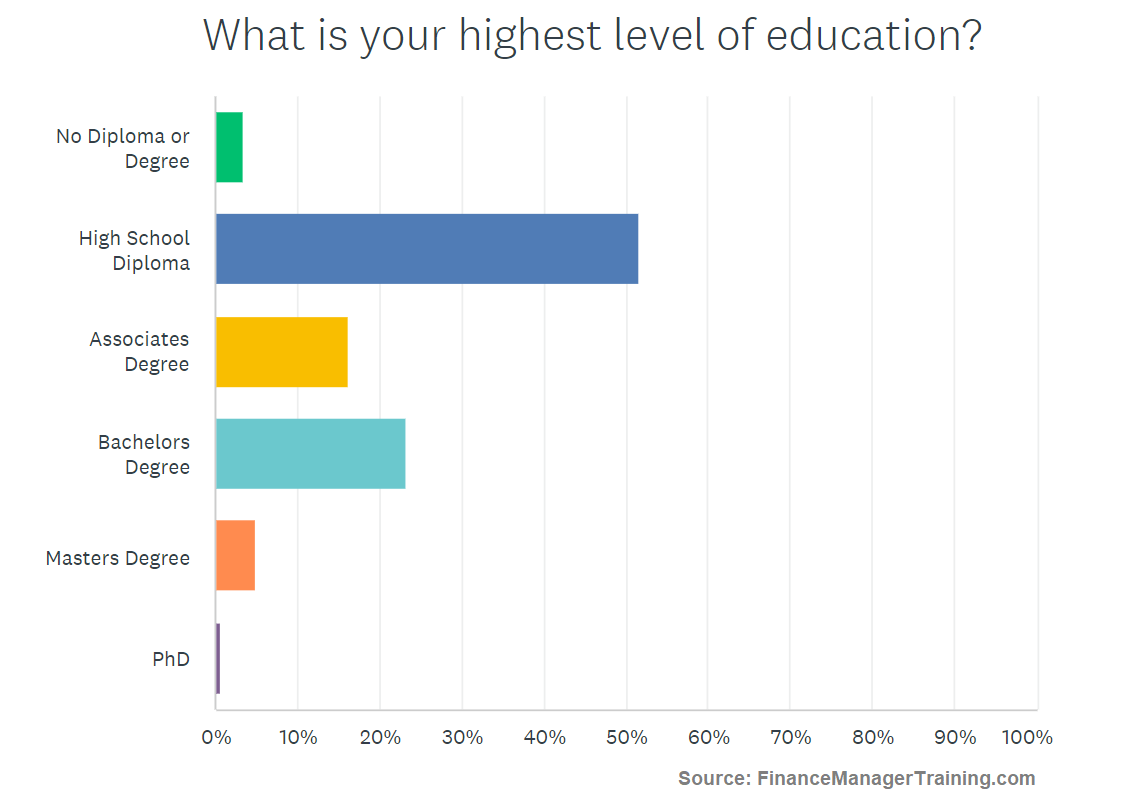 How are F&I Managers paid in 2023?
The vast majority of F&I professionals earn a percentage of the backend and nothing more. This has become the standard for finance and insurance pay plans.
What may come as a surprise to some readers is the number of dealerships still providing F&I personnel with a salary and demo car, in addition to their backend percentage. This group of mixed pay personnel makes up nearly 20% of our respondents.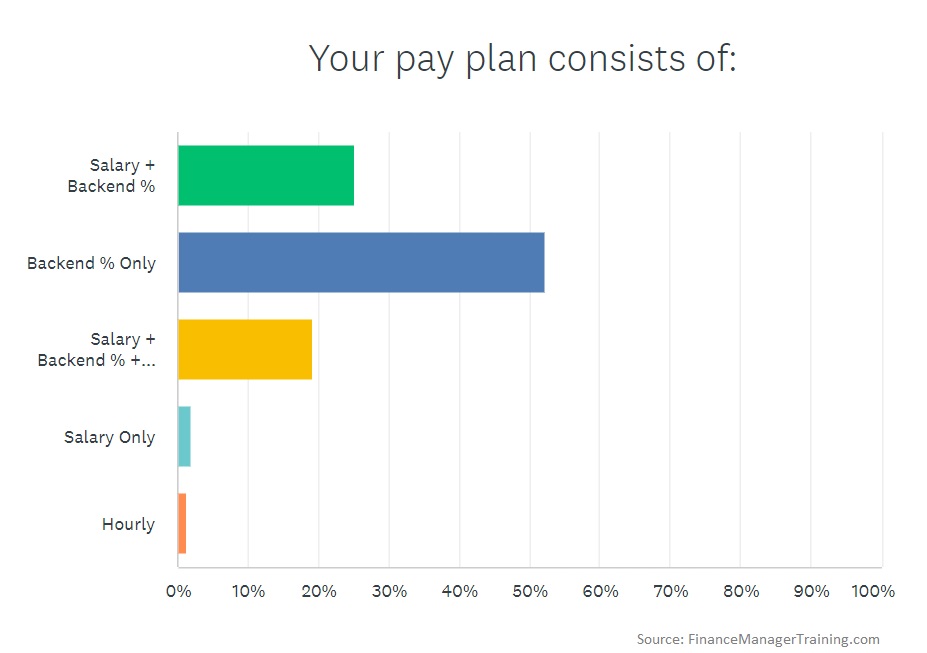 How many hours do F&I Managers work?
Automotive careers have a stigma of long hours. But is it true? We asked each of our respondents how many hours they work on a typical week.
Perhaps surprisingly, more than 50% of the people we surveyed reported working 50 or fewer hours per week.
Only 27.6% responded that they work 56 or more hours per week.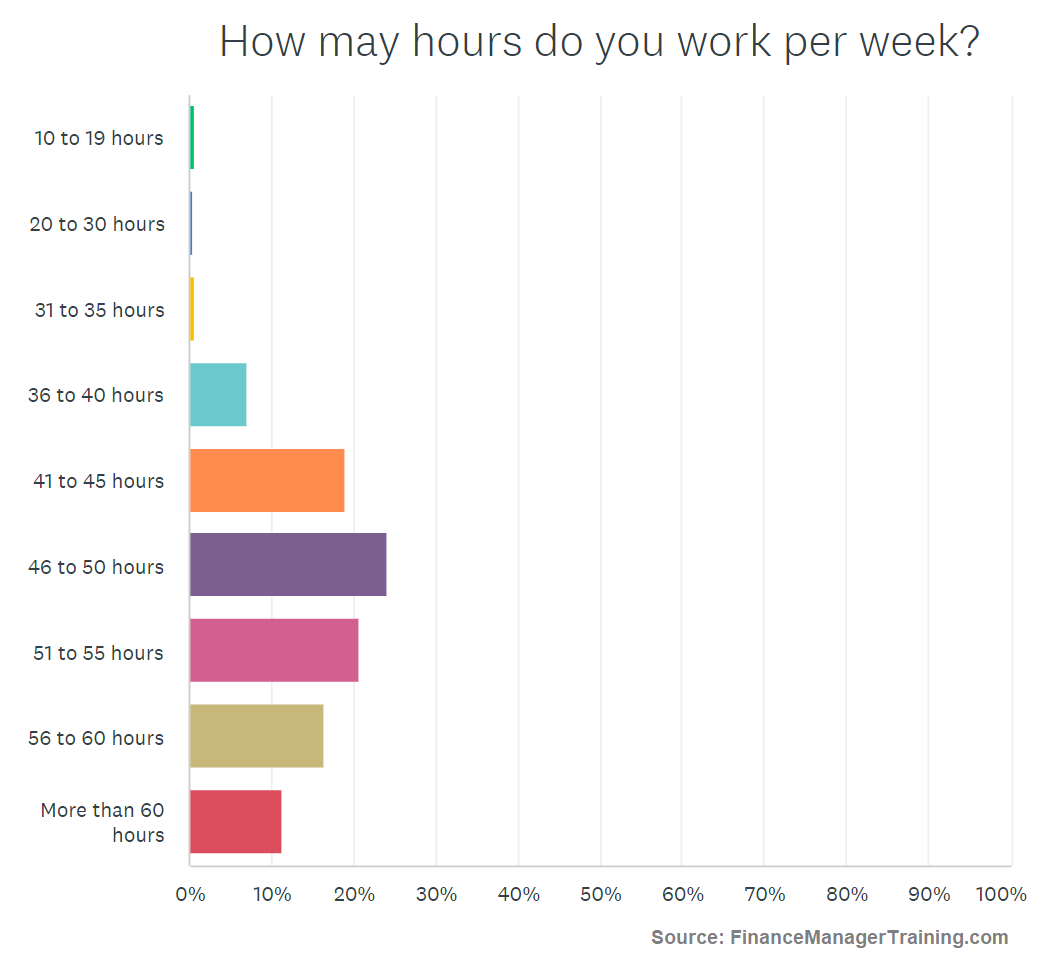 Do F&I Managers and F&I Directors Feel Appreciated?
To assess appreciation levels, we posed the following question: "Do you feel appreciated by management/ownership at your dealership?".
Respondents were given two choices: Yes or No.
This is a change from last years survey, where we also allowed respondents to answer "somewhat". We removed this choice as it provides little clarity.
Across the board, F&I Employees felt appreciated by their dealership's management/ownership, with 61% reporting feeling appreciated. That number increased to 67% for F&I Directors, in sharp contrast to the 2021 results, where only 46% of Directors felt appreciated by their respective management/ownership. That's a remarkable 21 percentage-point increase.
As income levels rose, so did appreciation. Income brackets that are equal to or greater than $150,000 saw an average of 32% more F&I Managers who feel appreciated than those who do not.
As income levels dipped, so dipped the managers who felt appreciated. Less than 50% of F&I Managers earning under $100,000 felt appreciated.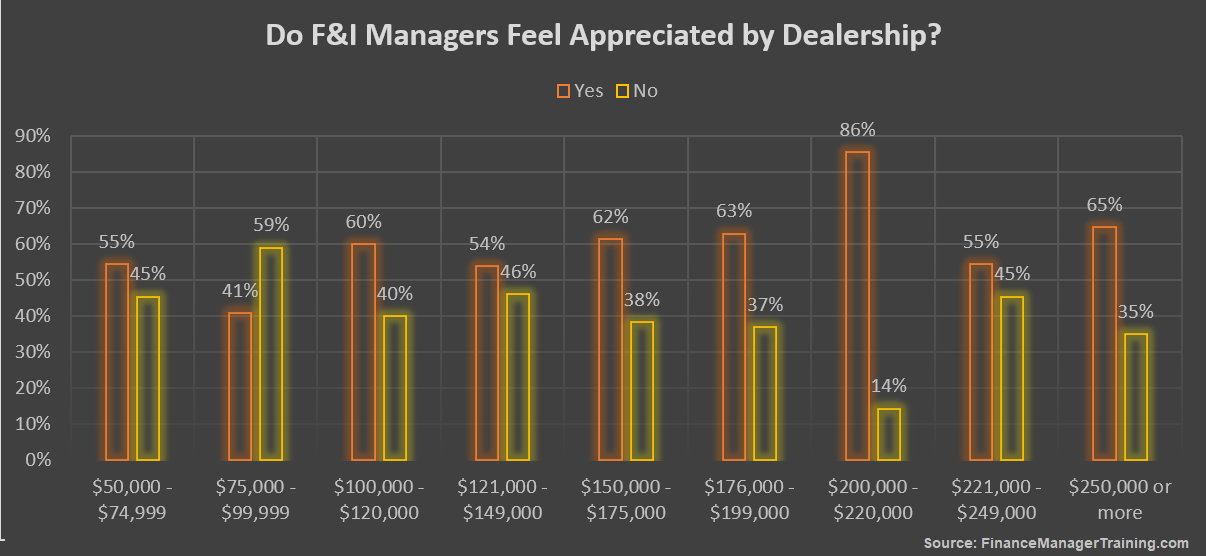 F&I Directors – Appreciation Levels by Total Income
Directors showed increased feelings of appreciation from management, with 67% of F&I Directors indicating that they feel appreciated.
This is in sharp contrast to last years results, where only 46% felt appreciated by their respective management/ownership. That's a remarkable 21 percentage point increase.
The 2023 survey added an additional question for Part F&I Employees. Less dual-role employees felt appreciated, with 56% responding that they felt appreciated by their respective management/ownership at their dealership.
The chart below is an
amalgamation of all titles (Manager, Director and Dual Salesperson/F&I).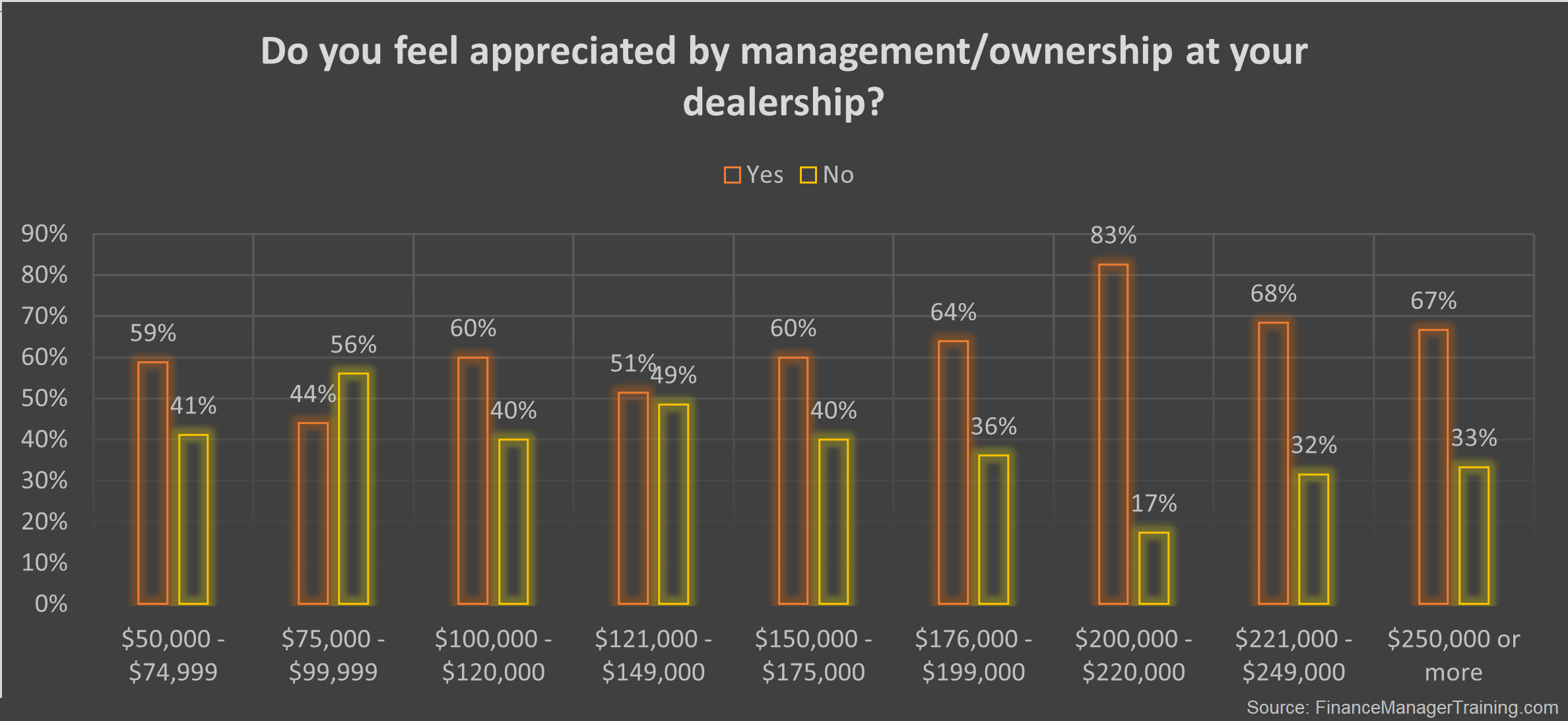 How Do F&I Employees Feel about the Future of F&I in 2023?
Research indicates that having a positive outlook on the future and a sense of optimism is associated with higher levels of satisfaction. To better understand the job satisfaction of F&I employees, we sought to explore their perspective on the future of the industry.
We asked the same 288 respondents this question: "How do you feel about the future of F&I?"
The results showed that 41% feel extremely confident and 53% are somewhat confident. In 2023, the survey asked three questions, extremely, somewhat, or not at all.
The 2021 survey asked five questions: extremely, very, somewhat, not so confident, or not at all. That makes comparisons challenging. In the top three categories in 2021, the results were 91% versus 94% for the top two in 2022. These are solid results representing overwhelmingly confident respondents.
Note that the differences between director and manager responses were relatively minor: 44%/47% between extremely and somewhat confident for directors and 39%/55% for managers.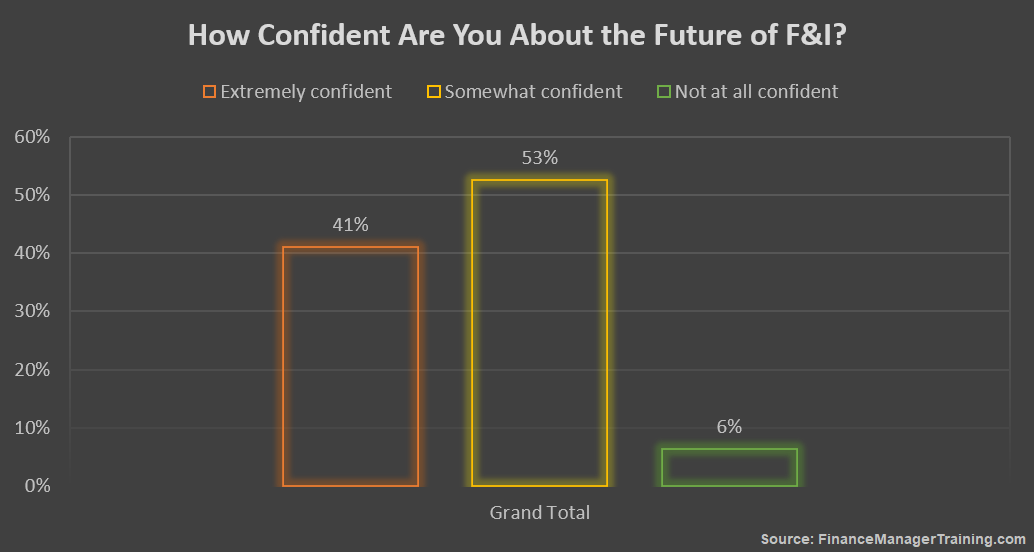 Future Concerns: Technology, One-Person Sales Models, Direct-to-Consumer Distribution
Our survey also asked about three specific concerns for the future of F&I Employees.
First, the use of technology such as artificial intelligence (AI) was cause for concern for 25% of respondents.
One-person sales models with salespeople selling F&I products were the top concern for 22% of F&I professionals.
Finally, the possibility of manufacturers pushing for direct-to-consumer distribution, while bypassing dealerships, tops the chart with 28% citing this as their primary concern.
All three of these concerns would significantly reduce the number of F&I employees. Interestingly, there were no significant differences in the responses between F&I Managers and Directors.
Would you like to participate in next years F&I Survey?
The more responses a survey or study receives, the more valuable the data becomes and the greater insights can be gleaned from it. Therefore, we strongly encourage all F&I staff to participate in our upcoming F&I Survey in 2024.
To sign up for the survey, please provide your email address below, and we will send you a reminder when it's time to participate. All individual responses will remain anonymous, and we won't collect any identifying information when you fill out the survey.
Online F&I Certification!
Learn on your own time and at your own pace, from the comfort of your home or office.