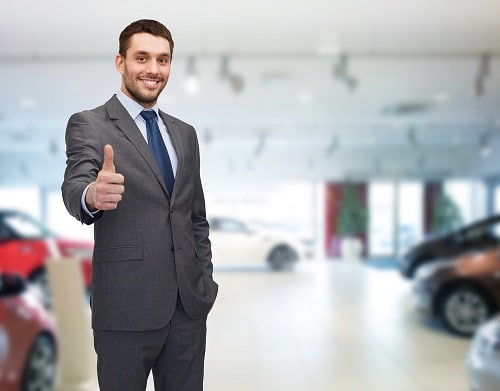 Welcome to the ultimate guide on how to find F&I Jobs!
Before the internet, finding an F&I Job meant driving from dealership to dealership, knocking on doors and schmoozing with general managers. Thankfully, the internet and F&I Schools have created a virtual roadmap for F&I Job seekers to find dealerships in need of an F&I Manager.
Here at Finance Manager Training, we are experts at finding F&I Jobs thanks to our job placement assistance program. In this program, we schedule hundreds of F&I interviews for our students each month.
In this article, we peel back the curtain and show in detail how we find F&I jobs and how you can find an F&I Job too.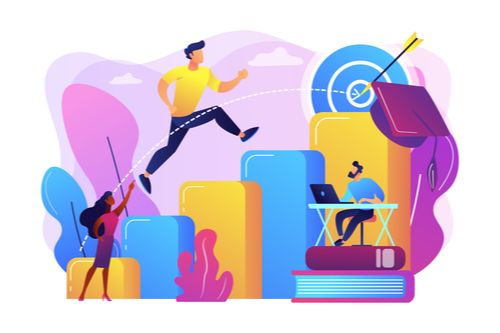 We find F&I jobs with a proven, time-tested process that results in F&I Interviews for the majority of our students.
This process includes three steps that our career development department follows to find F&I Jobs.
Step 1: We utilize our network of Dealerships
"It's not what you know. It's who you know."
The first step of our F&I Job search involves talking with our network of Dealerships across the United States.
These are Dealerships that we have worked with in the past to find employment for our F&I students.
Our contacts with these dealerships include Dealer Principals, General Managers, General Sales Managers, and F&I Directors.
By utilizing this network we can find potential job interviews and even referrals to other dealerships that have openings.
Step 2: Showcase test scores
Want to find an F&I Job? Showcase real-word performance via test scores!
We showcase student test scores to dealerships and dealer managers, which shows real-word evidence of the knowledge and skillset of the student.
Step 3: Follow up with all F&I Job leads
After utilizing our network of dealerships and showcasing student test scores, we use a special system that ensures we follow-up with all F&I Job leads.
No one gets lost in our job assistance program and no student falls through the cracks.
How you can find F&I Jobs
Most F&I Managers do not have access to the network of Dealerships and referrals that we have.
In fact, F&I Managers often turn to our F&I Certification program as job placement assistance comes included in the tuition.
However, all hope is not lost if you decide to go for it on your own. Here is how you can find an F&I Job by utilizing public job sites. 
How to search for F&I Jobs
How to find F&I Jobs on your own – Utilize the internet!
Indeed is a job listing website and a great tool to use when looking for an F&I job.
On Indeed, you can search for F&I Manager jobs in your area and filter the results to best find what you are looking for.
The website will ask for two pieces of information. The position you are looking for, and where you live.
The first step is to type "F&I Manager" into the "What" box. Then type your City in the "Where" box.
In the photo below, we are using Houston, Texas, as an example.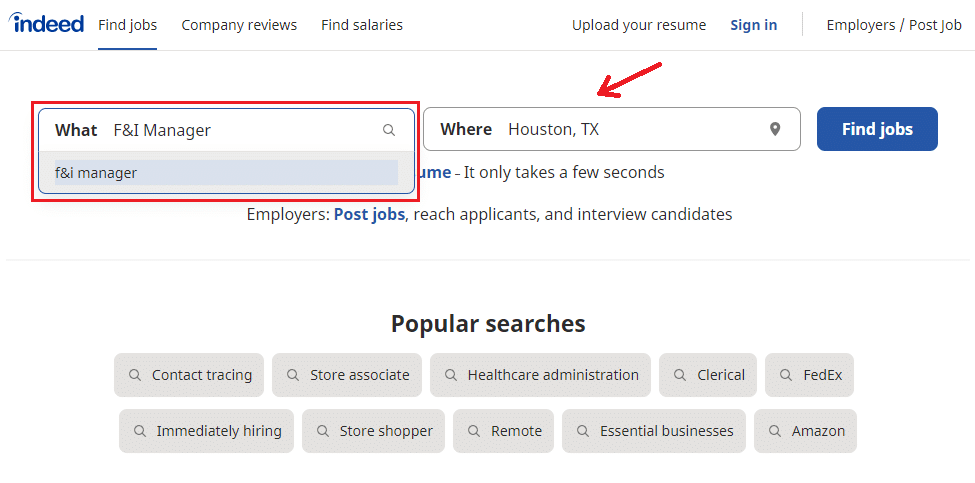 After entering your information click "Find Jobs".
The website will search its database for all F&I Manager jobs that are in or near your location.
The result will be a list of open positions, filters, and salaries (sometimes).
On the right side of the page there will also be a place for you to enter your email address. By doing so, you will be notified when the website sees new F&I Jobs in your area.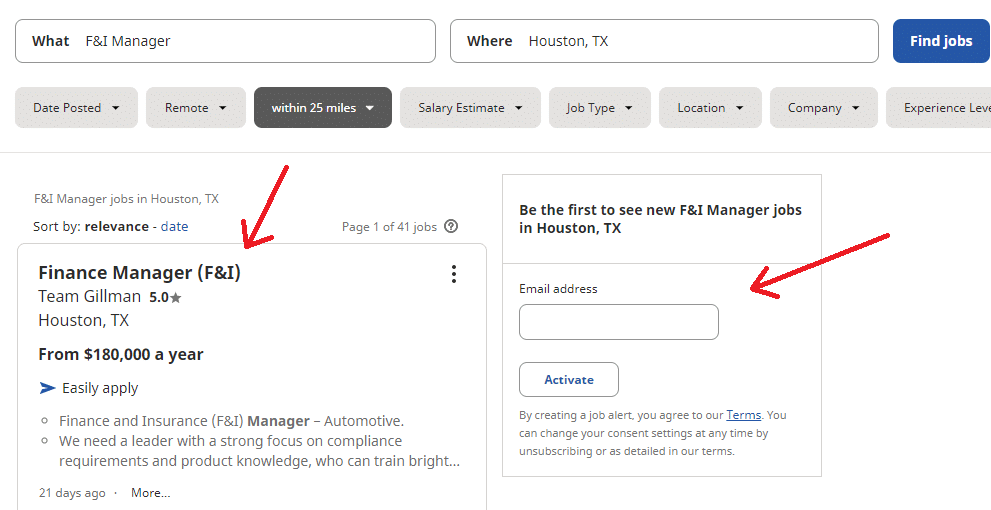 There is a default search radius of 25 Miles. This means that the website will search for F&I Jobs within 25 miles of where you live.
Depending on where you live, there may be times when there are not many F&I Jobs listed.
In this case, you will want to increase your search radius. You can do this by clicking on the distance filter.
This will result in possibilities up to 100 miles away. Doing so will often result in significantly more F&I Jobs to choose from.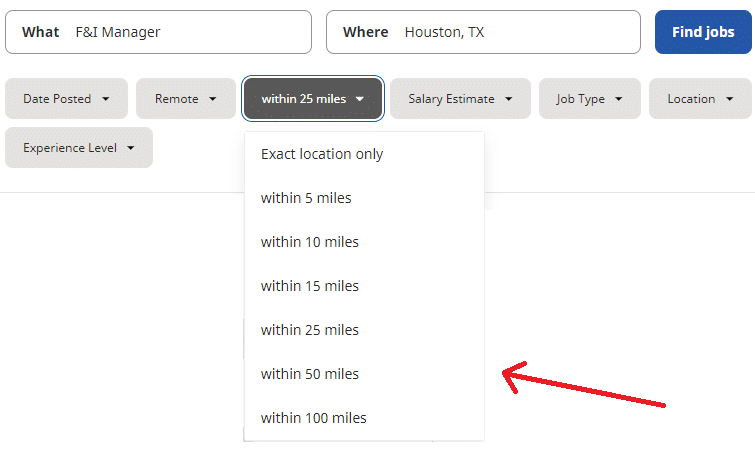 The last step is to apply for the job. 
This step is quick and easy. Simply click the "Apply Now" button below the job posting.
The website may ask you to log in, at which point you can upload your resume, answer questions and fill out the remainder of the application.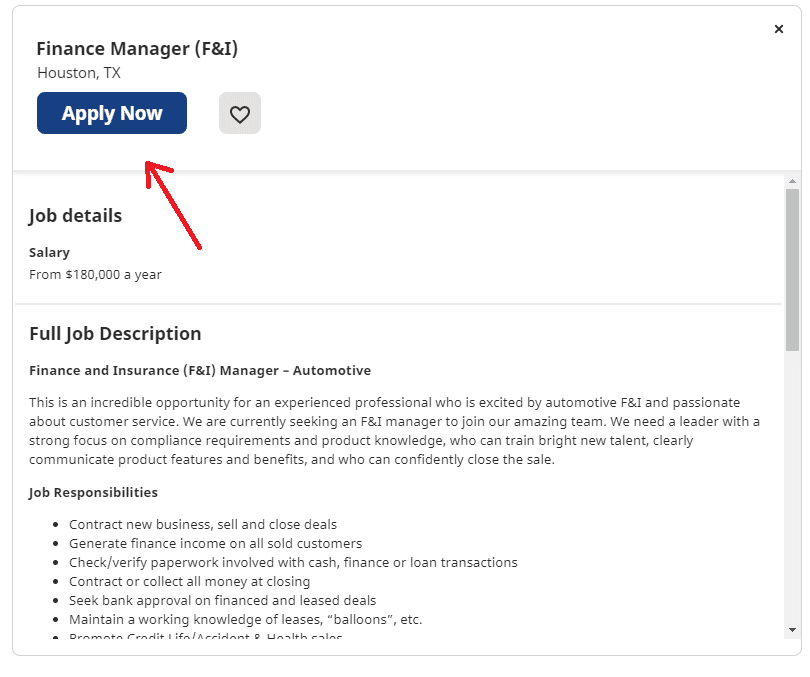 Let us find F&I Jobs for you!
If the process of finding F&I Jobs seems complicated and slow, that's because it is. 
Thankfully, we can do the work for you. 
That's part of what makes Finance Manager Training so great.
Dealerships looking for F&I Managers
If you represent a dealership that is in need of F&I Managers, we welcome you to join our network of dealerships.
When a student in your area receives their F&I Certification we will contact you and you will have the first opportunity to interview the candidate.
To join our list of Dealers, please call 855-212-1765.